Sterling Silver Paw Key Ring
A very popular alternative to the brass and gold plated brass Loveprint Paw key ring options, with the silver making it a stand out.
*PLEASE NOTE:
To determine what size paw key ring to purchase, please measure the length of your pet's paw print from the base of the pad to the top of the toes. For cats, the measurement is usually S (up to 1.5″). If we find that your measurement is incorrect after we receive your paw print impression we will let you know.
The size of each key ring print is as large as the wax impression allows. This makes key rings durable under the most challenging conditions!
All purchases paid in full do not need to buy a kit, a kit comes with purchase.
Sterling silver tarnishes and to clean it we suggest silver paste or silver dip. Sterling silver dip is fast working and requires very little effort but is not suggested for Loveprint pieces that include delicate stones such as turquoise. Silver paste requires more work but you can avoid delicate areas because you don't dip the entire piece in solution. To add shine to your piece we suggest you use a polishing cloth.
Gold does not tarnish! This fact is another reason why we suggest gold (yellow, white, or rose) if your budget allows. All you will need is a polishing cloth to add some shine or remove smudges.
Our gold plating is heavy 18kt gold micron plating. To preserve your plating do not expose your piece to chlorine (swimming pools) or alcohol (most fragrances and colognes contain alcohol). It is perfectly fine to shower or bath with your vermeil pieces. A polishing cloth will add shine or remove smudges.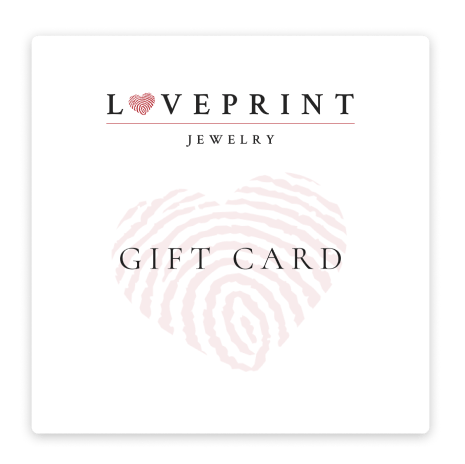 Want to make a deposit toward a jewelry piece instead?
At Loveprint Jewelry, we use
or you can buy a gift card to apply to a jewelry purchase at a later date.