Sterling Silver Cuff Links w/14kt Yellow Bezel
Adding a gold bezel to our sterling silver fingerprint cufflinks creates a beautiful contrast between the two metals. The medium cufflinks are ⅝" in diameter and the large cufflinks are ¾" in diameter.
For cuff links, you have the option of having both cufflinks to be the same person's fingerprint (for example, you have one child) or two separate fingerprints (for example if you have two children).
If you have a third individual you are printing, (so you can switch out the cufflinks), let us know and we can add a third cufflink. However to place an order for a 3rd cufflink or replacement earring, please contact customer service.
All purchases paid in full do not need to buy a kit, a kit comes with purchase.
Sterling silver tarnishes and to clean it we suggest silver paste or silver dip. Sterling silver dip is fast working and requires very little effort but is not suggested for Loveprint pieces that include delicate stones such as turquoise. Silver paste requires more work but you can avoid delicate areas because you don't dip the entire piece in solution. To add shine to your piece we suggest you use a polishing cloth.
Gold does not tarnish! This fact is another reason why we suggest gold (yellow, white, or rose) if your budget allows. All you will need is a polishing cloth to add some shine or remove smudges.
Our gold plating is heavy 18kt gold micron plating. To preserve your plating do not expose your piece to chlorine (swimming pools) or alcohol (most fragrances and colognes contain alcohol). It is perfectly fine to shower or bath with your vermeil pieces. A polishing cloth will add shine or remove smudges.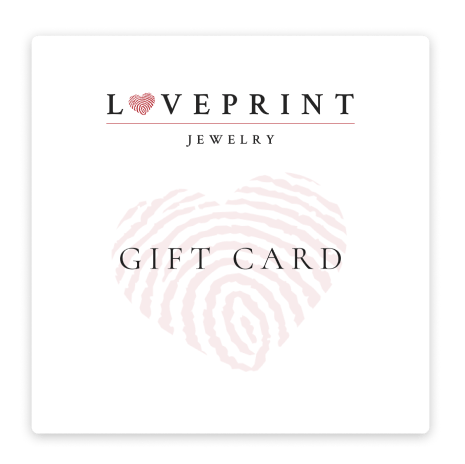 Want to make a deposit toward a jewelry piece instead?
At Loveprint Jewelry, we use
or you can buy a gift card to apply to a jewelry purchase at a later date.